Welcome!
If you landed on this page, you almost certainly are here because you did a google search for "John Carter Sequel", or "John Carter 2″, or something of that nature.  The good news — you are not alone!  This page gets an average of 500 visits per day from people searching for news about a John Carter Sequel.    Plus there are all of the following:
So What is The Status of a Sequel?
As much as we would like to tell you it's on the way, the truth is — Disney hasn't greenlit a sequel and doesn't appear likely to do so anytime soon.  The ONLY way it is gong to happen is for fans to get organized and
make it happen
.
What is the Proof Positive That John Carter Continues to Gain New Fans Every Day?
As it turns out, here on The John Carter Files we have some posts, like this one, where we have cleverly embedded the search keywords john carter sequel and john carter 2  and because Mr. Google thinks we're a pretty reliable source for information about John Carter (6M visitors, remember), we now have a situation where a lot of the people (not all, by any means) who are searching those terms land here.
Here, for example, are the stats for today, May 3, 2013 — a year after John Carter had finished its theatrical run.  The page you are on is the one at the top – the one with 617 views.   So — YOU ARE NOT ALONE in wanting a John Carter Sequel.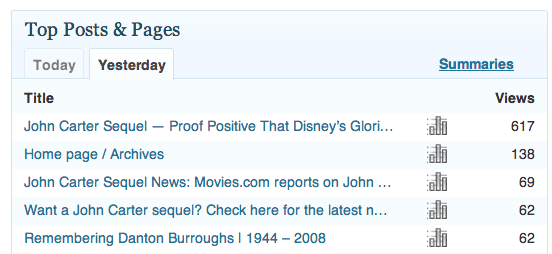 What Can Each Fan Do To Help?
You can definitely help the cause for a John Carter Sequel — and have fun doing it.  Here is our Top 10 list of things to do to help:
1. Sign the Change.org Petition to Disney
2. Join the Facebook Group at https://facebook.com/groups/BacktoBarsoom
3. Like both of these pages: https://facebook.com/JohnCarterBacktoBarsoomTheSequelCampaign and  https://facebook.com/BacktoBarsoom
4. Share this page to Facebook (use the share button on the top right!)
5. Rate and Review John Carter at Amazon — Amazon John Carter Page (can be as few as 20 words)
6. Rate and Review John Carter  at Internet Movie Data Base
7. Rate and Review John Carter  at Rotten Tomatoes
8. Tweet using #johncarter and #johncartersequel
9. Send a letter to Alan Horne, Chairman, Disney Studios, 500 South Buena Vista St., Burbank, CA 91521
10. Leave a comment here, at the bottom of this page.
Use your Voice — Be Heard!